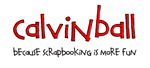 Do not google the following:
cute puppies
cute babies
cute puppies and babies
baby goats
pygmy goats
puppies and goats
because that's what I did last night when I really needed and wanted to get a lot of scrapping in.
I was entranced, entertained, amazed, and could not pull myself away from my computer screen.
... sigh ...
Here's my Calvinball point update:
CalvinBLOGing: 2 pt
the almighty layout: 3 pt
technology points: 3 pt
unofficial / official CalvinPoints: 7
Total to date: 14 CalvinPoints
Check out
this thread
and you'll see that I'm really not doing so well - but I'm quite inspired for the weekend! I've got some ground to make up!
I'll leave you with a sweetie pie layout:
I made that digital button from a digital JBS kit:
JBS-ReaderButtons
and that gave me an extra Calvinball point! Using technology! Yes!
Have a great weekend - I hope you can get your crafty on and join us for
Calvinball
. When you read the rules, you'll understand - it's never too late to play!