I can't believe I got right into the game and used 2 of my pins already. Both in the cooking category and you'll just have to believe me, because my food photos are frankly .... yucky! If you saw what my DElicious pork tenderloin looked like in photos, you'd never try it. Here's the photo from Pinterest: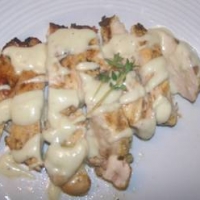 Two of my favorite things in one recipe: pork tenderloin and gorgonzola. It was awesome.
The next pin was the famous bread from Pioneer Woman.
The Bread
. Her photo of course:
Pioneer Woman uses ONE STICK of butter ON EACH SIDE of the loaf of bread. I just couldn't do that to my family ... so I tried one HALF stick of butter on each side, and honestly ... nothin' to write home about. So I think Pioneer Woman is right - it needs to be one stick on each side. Next time I'm feeling thin, I'll give it a try.
One thing this exercise taught me is that I don't like taking photos of food. And they just don't look appetizing when I do. I have friends who take YUMMY photos of food. Like
this girl
and
this girl
.
And the moans and groans when I pull out my camera before dinner - not worth it!
So ... two down, 23 to go!